Yogas to keep you fit during quarantine days
Published on April 16 2020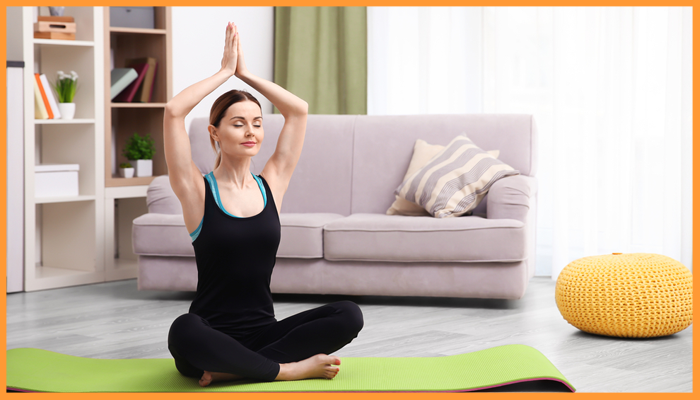 Covid-19 lockdown has made millions of people all across the globe to sit at home for their own safety as well as for the welfare of the humankind. While many are working from home to meet the needs of the hour, there are several whose works don't really have the provision to continue from home. So, the entire population is divided into attending video conference calls or working on their laptops, and sitting on their couches munching crackers and watching news of the pandemic.
Health? Emotional motivation? Gone for a toss. While this is too mentally exhausting and tiresome to do nothing in the house arrest period, no or less physical movement can cause health issues later on.
How about trying yoga therapy as the best solution and the need of the hour? Try these postures and move while you are locked down at your home.
Extended Triangle Pose or Trikonasana
For: Opening up chest and shoulders
Excellent for a relaxing stretch to ease your body after an elongated day in front of your laptop, or simply lounging on your bed, Extended Triangle is the quintessential standing pose in yoga. Unlike most yoga postures, the Triangle Pose requires keeping the eyes open in order to maintain body balance.
Benefits of Trikonasana:
Strengthens the legs, knees, ankles, arms and chest
Stretches and opens the hips, groins, hamstrings, calves, shoulders, chest and spine
Increases mental and physical equilibrium
Helps improve digestion
Reduces anxiety, stress, back pain and sciatica
Lord of the Dance Pose or Natarajasana
For: Improving your balance after long hours of sitting
Want to keep yourself calm in these trying times? Lord of the Danced or Natarasajasana is the ultimate solution. It is a standing, balancing, back bending asana in modern yoga. This aesthetic, stretching and balancing asana develops concentration and grace.
Benefits of Natarajasana:
Improves balance
Stretches the shoulders and chest
Stretches the thighs, groins, and abdomen
Strengthens the legs and ankles
Half Wheel Pose or Ardha Chakrasana
For: Helping in digestion and fat loss
Those who have a stiff back should attempt this as an initial warm up posture that not only helps them open up, but also aids in fat loss. The Half Wheel pose is a gentle variation to the Full Wheel pose meant for ensuring strength and flexibility.
Benefits of Ardha Chakrasana:
Stretches front and strengthens back
Eases the stiff spine making it supple and easy to take
Helps to lose the unwanted fat
Good for postural defects
Improves blood circulation and eases menstrual discomfort
One Legged King Pigeon Pose or Ek Pada Rajakapotasana
For: Healing backaches and sciatica
One-Legged King Pigeon Pose is a deep backbend that puffs the chest. It is a seated back-bending asana in modern yoga as exercise. This hip-opening backbend stretches the hips, back, and shoulders.
Benefits of Ek Pada Rajakapotasana:
Opens hip flexor muscles and groin muscles
Opens hip rotator muscles
Relieves sciatic nerve tension and ease chronic low back pain
Increases circulation to urinary, digestive, and reproductive systems
Yoga Therapy is the best thing you can practice during these quarantine days. Stay home, stay safe, and while you stay at home make sure to make yourself fitness ready and flexible.
If you want to continue these poses with the help of professional training, Namastday Yoga is your place to reach out. Due to the lockdown, their yoga centre is closed till 13th April 2020 (till further notice).
Keep an eye on their website https://www.namastday.com/ or call them at (310) 923-9922 after the scheduled lockdown to schedule your classes.